I'm just moving these posts here because they don't belong in the support thread where they were posted.
Hi.?
I was surprised to find an official support thread for the Optimus with Android 9. It is an old post dating from June 2021 and I wonder which problems arose to cause Android 9 watches to be unsupported. I would also be interested to know the practical differences between Android9(and now 8) apart from having the unisoc processor which is considered inferior To MTK.
Many.thanks for all the information and good advice.
Best wishes for the new year
Noel
It isnt not supported just i dont see any issues with the watch that are needed to be fixed, at least not with mine, i also have A9 watch and A10 , not going with A11 as i dont like the design and the PRICES i dont see any significant changes in them and I'm quite pleased with my A9 watch as i use it fully and get 2 days of usage.
I don't even have to use battery saving mode. I disabled battery saving and optimization option on all apps. My watch is the Lokmat 7 which i alsoblove it's design.
This announcement above explains it better @Jugdog
It's not Android 9 that is not supported.
It's some very bad watches produced by some very questionable people.
Basically, these devices are sold cheap and the advertising is generally fake.
None of the Android 8.1 watches are supported. Stay away from these!
Most of the watches which are unsupportable by us are bad quality "clones" of other watches.
**We cannot get firmware for them. **
**We cannot ask for bugs to be fixed. **
Many of them don't allow custom watch faces.
The LEM P and the Kospet Prime S (there is no Optimus with Android 9) are examples of Android 9 watches that we can support.
I will move these posts to another thread now because they have nothing to do with this thread…
Cheers.
I'm totally agree with you, Sonia. Have a LEMFO LEMP with A9 and I don't see any significant change compared with A10 or A11 in software terms. All apps run perfectly well on it and do it as fast as these Android versions.
Also the designs on these watches don't like me at all to justify buying them, specially the main camera disposition (not the selfie camera).
I also agree. I just got a LEMP and it's already one of my favourites.
One question, I've buyed recently a new LEMFO LEMP watch because my first LEMP from one day to another suddenly became to run out of battery in less than 2 hours and I discovered that the reason was in the sensor on the back, it suddenly became burn like hell itself at a point that burned my wrist if I keep it in contact for a few minutes!!
Initially I believed it was a battery problem, but later I've just discovered that I used to charge the watch with phone chargers over 2 or more amps and the user manual recommend chargers not over 1 Amper, that possibly permanently damaged the heart rate sensor, witch is directly connected internally to the charge pins, and disconnecting the whole flex of sensor/charge pins/buttons manually from the main board the problem was solved, so I've decided to buy a small charger of 1 Amper now for my new LEMP watch.
Have you ever got some problem like this?? What do you think??
Hope it never happen this to me with my new LEMP again…
@Claudio_Alejandro yes it is a well known issue that using a powerful charger will damage the watches.
Especially now that the sensor and button cables are interconnected with the same small controller as the battery charging pins.
Generally using a laptop or PC to charge is quite safe.
But that's not very practical and a 1amp charger is best.
It is mentioned here in the forum many times…

Thanks for the advice Pablo, I supposed when I buyed it, but didn't worried so much about it since the watch didn't included any special charger either.
I guess they should include a major advice about this on the package box to avoid issues. The user manual "recommends" a 1000 mAh charger, almost without major importance. And the final user often not take this on care on the daily use.
@Claudio_Alejandro
Yes I totally understand.
I have raised this with them for future models.
It should be a matter of importance to let customers know that they should not use a charger over the recommended rating.
They should also advise people that the watch should be off when charging.
If it is charged while it is powered on and the screen is used at all or the network is used - it can over heat the device and also reduce the overall life of the battery.
With lokmat 7 A9 i get over 2 days of battery usage and it is a beautiful watch, i didnt like much the A10 watches except for the lokmat 9 beacause im not a fan of cameras on watches, sadly the lokmat 9 has crapy old hardware which battery life is about a day, so for now my main watch is,the lokmat 7.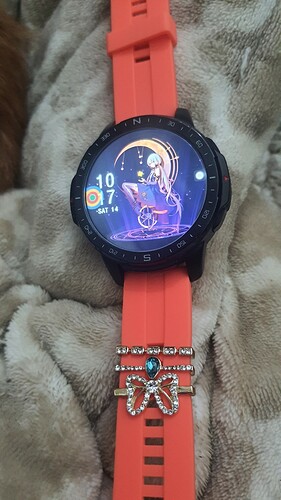 @sonia_sophie_ataunna Your beautiful addition to the watch band certainly makes it looks so much better than just the plain band!

Cheers, Doons
Wow Sonia, you really got style baby, jaja. You added brightness to your watch, nice idea


I almost don't use the LEMP cameras, but don't do neither with my smartphone. Anyway, I think LEMP or Prime S camera's disposition is the best for those watches with two cameras.
And the time battery is very good in your case too, in my case I get 24 hours max before connecting the charger, with notifications on, 4g on, Android mode on, and continuous heart rate and oxygen levels.
I assume your last advice applies on those cases of intensive use of apps or heavy apps. Normally is less frequently to use the watch while it's charging, since the power cord uses to disconnect easily from the back of the watch.
Anyway, when I suffered this problem with my first LEMP and try to charge the battery, the overall heat raises too much at a point that the entire watch burn like hell, on that point the battery can take up to 10 hours or more to charge completely due to overheat that she reached. But the smartwatch demostrated to be too much resistant to this conditions, never meltdown or suffered any physical damage after all (I took this problem like an experiment by the way)
On normal conditions that couldn't never happened, even when I practice sports and the watch is continuously working.
Hi I looking for information how can I install faces to my full android watch with android 9
i try send to my watch new faces but its not show on my watch
any sugestions?
Some of the Android 9 watches have a very limited operating system and do not allow custom faces. What's the name of your watch?
@Claudio_Alejandro What are you using to charge the watch?
I mean - if it is a phone charger, what is the rated output in A/Mah?
Is it powered on while you are charging?
It's not an standard smartwatch charger, I've buyed following the manufacturer's specs (LEMFO on this case). Actually, there's no phone on market that have a 5v/1000 mAh charger, so I searched what Lemfo should have included on the box from the beginning in order not to damage my watch later…
Buyed on Mercado Libre site, from Argentina.
The question is which faces are you trying to pur on the watch, what the brand of your watch? If you want to uee Wear faceses than install universal Launcher. Youll find the info on this forum.
That should be ok if the watch is powered off.