Ask anything here LEM10 related and we will try to answer it here. Idea is to create a FAQ.
Hi there

Could you please let us know if app Sportstracker works in the watch?
If not, i would like to use it for follow gpx track routes, would be great to know if original sport app does gpx track import, or if you already tried any similar, thanks!
@Enyel_Alcatraz can you give me name of company? I found no sportstracker app with Lem 10 on the play store, only sports tracker. Is it the same?
U're right, it's Sports Tracker, from Amer Sports Digital company
In standby mode, only a black screen? Turns on quickly with a hand gesture?
yes, it has installed correctly. there is a splash window with a video loop asking me to login.
So consider that app usable on LEM10.
I would use ghostracer if you want to race against yourself. Has wearOS support aswell.
MyrunningAPP has the same stuff, even workout and training plans to increase your performance. Also has support for heart rate monitor on full android watches, but it's not appearing for some reason on google play, It's 3 euros a year subscription but there's no better overall sports app than this. It will export to Strava and Google fit. Subscribers will for sure get the apk for manual installation. I have already created a post here about that app.
Heart rate monitor is a joke, we are waiting a firmware update to fix it.
yes, it tuns on quickly with hand gesture. yes, the screen is black when not active.
This watch uses IPS screen which means even if only ONE dot is displayed, the WHOLE screen must come on. So you really don't want always on display on this watch.
Thank you. I read in your review that BT has a good connection. No connection lost through the wall? My LEM8 loses connection after 3m(( Is there no screen protection in the kit?
yes, very strong Bluetooth and GPS (but you need to get internet for a-GPS data update (it does it automatically) every time you put a SIM card in and out. It's a VERY minor detail. Two screen covers are included, one already attached by default. The protector puts itself halfway through the lens, not sure if that's the reason there's an strange artifact at the very top of the photos or not. You can always cut a little hole around it.
I don't really need GPS. The main thing is good contact with the phone. Ordered …
Also ordered 1gb/16gb, for me should be fine and i got 86€ price in ebay in lemfo spain with a 9,5€ paypal discount applied, best price i found!
As I have written extensively about moisture affecting the power/home button on at least three other brands (Lemfo, Kospet, Zeblaze), and as I see you have run with the watch, have you ever had any issues with moisture, unexpected reboots, or any other faults like that?
No, and you are right, moisture did affect negatively the buttons on the zeblaze thor pro.
LEM10 has IP67-.ish waterproofing, not recommended to submerge it but it should cope though with moisture. So far it's ok, only problem is the heart rate sensor not really doing anything than to look pretty.
Hello again, could you please let us know about your daily battery usage, how do you configure the watch to get lowest drained?
i would use bt to connect with the phone, not gonna use at least at first a sim card into, so just bt as wifi will be used to install things at home, but not outside just using bt, screen should be always off unless i turn wrist up, maybe i would also switch this off
thanks for sharing to us!
2-3 Hours of screen on time. I tend not to use it as 4G, rather leave it with 3G to save battery. Battery is almost 800mah, so it's alright having it connected to bluetooth all day. I can go for a long run for almost 2 hours with bluetooth music running as well and still have battery to last the rest of the day.
I also leave the watch in airplane mode, that's so the cellular antenna isn't constantly draining. It's alright, battery wise.
So, on 4pda, the root is received
I don't know what you said. But if you want to root I would suggest you wait a little. OTA firmware updates become impossible when rooted.
Google translator:smile: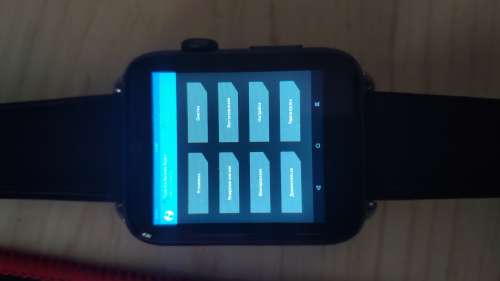 TWRP on Lem 10, and root
Hi there again, i just received today my 1gb/16gb lem10, i'm unexperienced user as this is my first smartwatch, so i've been trying it with Wiwatch and it's very fluent, but i installed watch droid, as i saw in google it's usable also to make dials from the watch itself (only versions 9.1 or prior), and this option works fine (in fact i was looking for a sw being able to asnwer dials directly from the wrist while phone is in the backpack), but constantly disconnects from the phone, although i selected in the phone "keep connected awake at smartwatch & keep connected awake phone" … constantly connection fails and i have to disconnect bt & connect it again (or shut down / up again connection from watchdroid app)… not sure if this is a fail from the app, from my phone or a lemfo fail.
Second problem i found, is that i can't have internet on the lemfo lem10, it works fine with the wifi, also with wifi tethering sent from phone, however it doesn't make any sense to use wifi tethering + bluetooth, as this would drain both batteries very fast. i am trying to use bluetooth internet connection, but always when i select lem10 in bluetooth phone settings, i press there "share internet" and it rejects… phone is a Huawei Psmart 2018 model
If i can't get a strong connection with the phone and neither internet in the sw, this won't worth the try for me
… help mates