Good old days and sweet memmories

Have fun! Cursor blinks like on the old monitors/
Credits: https://www.microsoft.com
Download:
https://drive.google.com/file/d/1JX3bvVQPgyuFmEzcJoCcWWBdYpDXTf0F/view?usp=sharing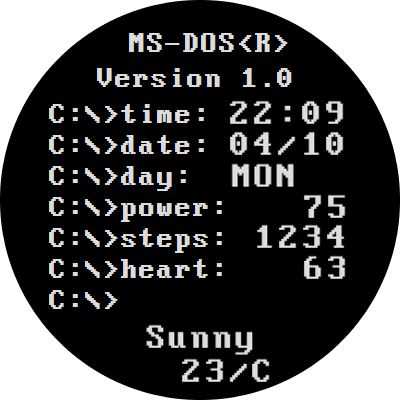 Format Watch:


CD \WHAT_A_GREAT_FACE\I_AM_FROM_THE_DOS_AGE_TOO\NICE.BAT
@Jurgen_Oberst nothing against, if I will create one on a GNU/Linux CLI ?

@Gabriele_Gabolander do as you wish happy when my face inspires you

have fun!
yes i just loaded this face, and yes i love it
This is a pretty sweet watch face.
nice !
i loaded the debian gnu/linux one as well, they both are so nostalgic
Dumb question but I do not see a link for the Linux CLI. Would you post the link here?
i found it in the round custom faces section along with this one, i dont have the link, but thats where i got it, its there, maybe some scrolling is required or a search.
scratch that…i found it for you.
Thank you, it never crossed my mind to look for it in Watch Faces. It's been a while since I have been back here and I think a few brain cells died over that time.
neurons that fire together wire together, you'll be back to your old self (actually new self) in no time. lol
welcome back