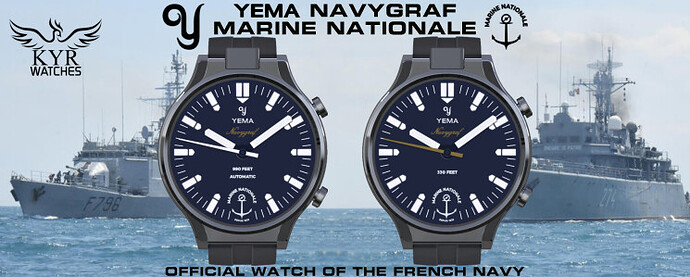 Available in my blog.
Features: Analog time (hour, minutes and seconds hands).
Recreation of these 2 nice and functional watches created by Yema, designed by French Navy personnel for marine professionals, that has became the official watch of the Marine Nationale. These two beautiful time pieces shows, on a blue dial, the hour markers in the shape of exclamation marks and the Marine Nationale logo in the 6 o'clock position.
This 2 watchfaces pack includes the watchface of the standard Yema Navygraf Martine Nationale, and also the Navygraf Marine Nationale Femme, which is the first women's military wristwatch in the history of Marine Nationale.
If you like Navy, sailing, ships, military watches, or just beautiful and nice watches, you can't miss these watchfaces!
Watch model: Copyright © Yema.