Greenwich Mean Time in the middle with alternative hourly times in four other places…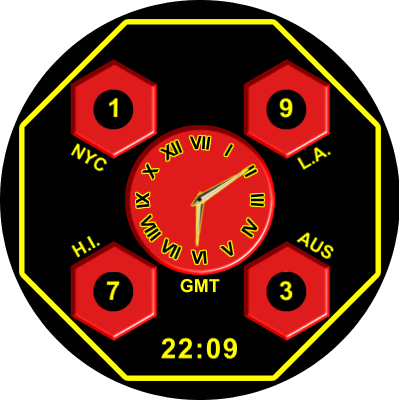 Doubledad, now that is one striking design mate!


Certainly easy to read all the time zones and information. Nice one mate! Cheers, Doons
Good to hear from you, Doons, thought you had gone into hiding!

I've been on everyday doubledad! But you won't hear from me much in the future mate…oh I'll still visit, but I certainly won't be participating as much as I have in the past (Long story) …except when you knock out a design like this one mate! Cheers, Doons
Sure hope it's not a serious health issue… Let me know, I care!
Thats very decent of you doubledad!

But rest assured that the ole Doons is a sound as the (Liberty

) bell…er…well I was when I started to write this anyway!

Just a problem that cropped up and I was quite annoyed by simply the very pettiness of it. But not to worry mate…it will be forgotten by tomorrow and I'll still be hear to put a little salt on your tail when it's needed!



Cheers, Doons