This could be the biggest selling Smartwatch of 2018 Square/Rectangle. The Lem4 PRO
Also branded as the DM99. Big surprise.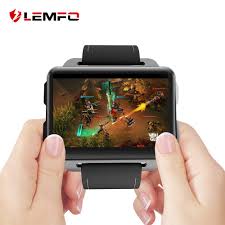 @tim_Collins Yeah the pic makes it looks like it's bigger than a big mac burger.

Wow looks like a tablet, but hey ho, I will probably get one out of curiosity, can't help it, these toys are additive!
This is a must for me because it is so unique.

@tim_Collins This one will be the opposite of all that. The old Lem4 was the best smartwatch for battery life and all antennas were the strongest of any smartwatch but had A4.4, 512mb RAM and 4GB Storage, 1 button. no heartrate monitor, average quality front facing camera and a crappy UI. They have fixed all this on the Lem4 pro and kept the massive battery. A massive leap instead of a minor update. Considering A7 is still buggy and in beta stages.
@A_Kinsella like a mini mobile phone


I am very interested …Still waiting for it. Apparently there is a shortage of them…
@Pablo_Eleven_Pablo11 Mine is coming next week. I believe it supports custom watch faces so working on some now. And supports bluetooth calling.
@A_Kinsella yep - both are true. PCBA is made by the same guys who make LEM7 H2 Thor 4 etc etc
This watch has been confirmed to support custom watch faces, has Bluetooth Calling and pinch to zoom function. Almost identical UI as the Thor Pro.
@tim_Collins the Lem4 & Lem4 Pro kind of remind me of my first 'smartwatch' I owned, this beast:
Mine is coming next Monday week. Will shower you with details on this one from apps to how well all antennas work.
@A_Kinsella I remember those, nearly purchased one, the advertising targeted fitness with accessories for attaching to a bike if remember right.
I am having serious issues with GPS on my LEM4 Pro… It was better before the OTA just issued for fixing the blank screen if you use a sim pin.
@A_Kinsella I found the issue was because I used Magisk to mod the boot image.
After flashing the full firmware release 20180802 - it's working fine now.
I'll post it soon - uploading now - at a snail's pace

@Pablo_Eleven_Pablo11 Firmware would be great. Thanks Mate

As far as I know they are the same. I would go for the Lem4 pro. Many poeple I know have one and have not had any major issues at all. Smooth running straight out of the box and firmware updates available. Awesome watch. Strong antennas. Best smartwatch if you are going to use as a standalone phone.
I just got my hands on this watch last week.
The issue I am having is that the latest version of Google App keeps crashing. So I removed the update and it works again.
The default app is version 4.6.10.19.arm
The latest version 10.4.4.21.arm
My android version I believe is the latest V1.4 20181117
Does anyone else have the latest version of Google installed and have it working ? Anyone managed to get assistant working ?