my first watch face the link:tlou2 watch face - Google Drive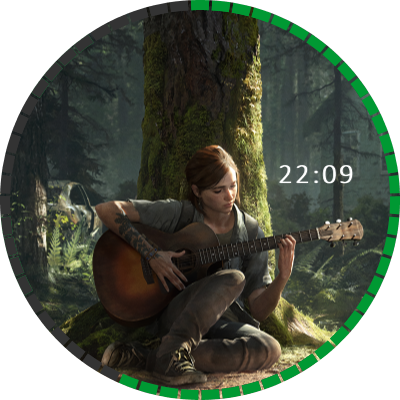 credit link - www.naughtydog.com/
Now that is one beautiful looking face @jawad1 !

I play Guitar myself, so I like the image very much…and the circle around the outer dial for seconds look good. Works fine on my Prime 2. Excellent first face mate! Cheers, Doons
Great job . Can you kindly leave a credit link please . Thankyou
Thank you for your comments I do one from rdr2 I am gonna give the link this night
I appreciate that but the image is from the game isnt it ?
Ah ok I am gonna do it it my first work
Appreciated . Thanks for your contribution
Hi, Doon please upload your video playing guitar , I would like to make watch face on it…
Cheers Mehul
Sorry to disappoint you my Friend, but there is no videos of me playing Guitar…I don't think I even have an pics of me playing. I am not a professional (Used to play in some Clubs when I was 18…but not good enough for anyone to want to film or even take a pic of it) And I only play for my own enjoyment (And to annoy my Missus!


) nowadays. The only thing I have is a shot of all my Guitars. Cheers, "Maybe I could do something like "Don't let Me Down" on a rooftop"?


, Doons

Well you have got some great collection !!! Ok Some other time Mate but if you change your mind and shot video of you annoying your Missus playing guitar…


Then please post here everybody will be happy to make one.
Cheers Mehul