Sunday Funday "Pink Panther" digital watchskin…
digital hours and minutes
steps
battery level
Download:
https://drive.google.com/file/d/0B9c-vl8oxm2EVFlPcDhJWFFHeGM/view?usp=sharing
Community donations page:
http://goo.gl/FrUKUE
Information: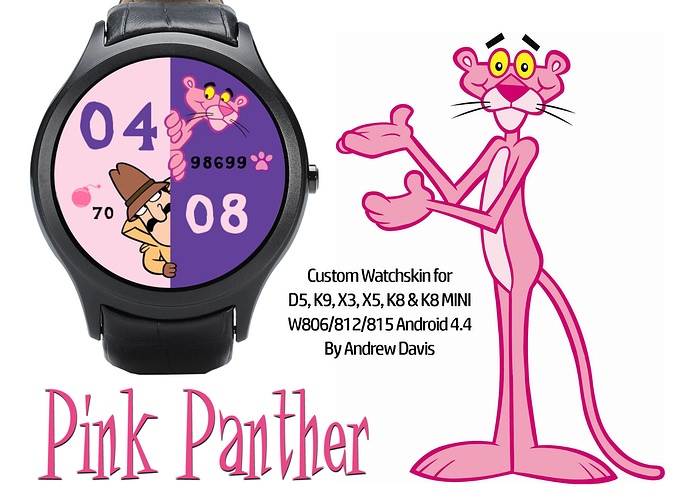 @Andrew_Davis , You make me go back a few years backwards with this skins …
Thanks for both.

Community donations link added

Andrew, may I convert your PP WF to an APK for all Android watches.
It's simple and can be adapted fast.
I'd have to replace your steps with the date, bacause I have no option to get the Stepinfo yet.
Credits will be in the Post and in the APP it self.
I'd send you a demo for review first.
(Info@KennethTan.nl)
@Kenneth_Tan Hi KT… no problem


Two things:
do you need me to change/add/move anything?
please keep the Community donations link…
Andrew, I'll keep all links. There is 1 graphic missing: a dash, for the small digits, to create a date. May be if you can, please make a jan-feb…dec graphics, or please tell me what font you've used. The dash I can make the rest too if I know the font.
Nothing needs to be changed or moved. I's remove the PAW (or duplicate once or twice for decorative purposes, and put the date on the spot were the stepcount is.
Is that acceptable to your design?
I'll find the font info and get back to you… no problem in changing/moving the paws…
I may not have kept the original Gimp file (!)… I've only found the CSM watchskin file…
The font is Equestria… size 36px for the date and power… here's the font download link…
http://www.dafont.com/equestria.font
The font set has upper and lower case letters… and a dash


Do you want me to make something?
Well if you have the time (or else I will do it myself, but his will the design will remain a 100% "Davis"
I need a small dash (stepcount size) and from the same set "jan" …"dec" You descide what looks best in the choosen font:
Jan , JAN or jan
I use Photoshop. I'm Thinking about using the paws as Walking second Indicators. How about that?
Thank you Andrew, you made quick work of that. Got it all.
@Kenneth_Tan I had considered it… I was going to use the special_second array and change the colour in CSM… but I thought that the paw prints looked a bit small… as it was a quick Sunday Funday skin I didn't look into making a ticking "second" mask… BUT it would look pretty cool

Andrew, sorry to bother you again, I need the "%" symbol in the font. Is that possible? For the battery level.
Sorry I took so long

Purr-fect. Working on it right now.