Requested by Berilo: Citizen Eco Drive AW7030-06E.
IMPROVED battery dial - should be OK now.
Original watch:
http://www.citizenwatch.com/en-us/watches/watch-detail/?model=AW7030-06E
Download: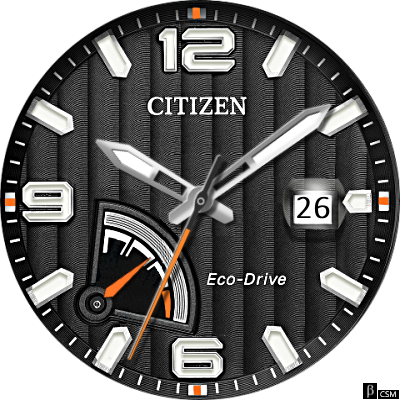 @Jacek_Klodzinski if you grant permission that @Tiaan_Kotze can adjust the battery indicator, I think it would be possible if he wants to adjust.
Alessandro Limonta, any news?
@Alessandro_Limonta I have changed it to:
8
90
-2
OK?
In ClockSkinMaker looks strange but better in the watch. I will test and if it's OK I will upload improved version.
I would first like to thank @Jacek_Klodzinski and @Alessandro_Limonta for their dedicated hours, because the face was very beautiful.
Is the current download version already the final?
Can we test?
Is working well, battery is 95% now. I'm going to test when I have 50% and return. Tks.
missing/deleted image from Google+
Battery 83%
missing/deleted image from Google+
83%??
any time frame? from when to where?
Now 22:52 with 72% battery
missing/deleted image from Google+
very nice* finow x5 plus, did you rooted it?
You still have the link? The link is not yet active, please send new link, thanks in advance and GODbless