Alright, so here is the latest release, adapted for launching MyRunningApp by pressing the logo in the center of the bottom half. To the left is seconds (tap here for google assistance) and to the right of the logo is the outside temperature. Press here to update weather! I couldn't put the seconds on the right side because of the temp's minus sign, it needs some extra space. It also has the extra stuff like steps, calories, distance. (these are calculated by the watch, not MyRunningApp). Clockskin version, stock launcher. (Looks great on the device)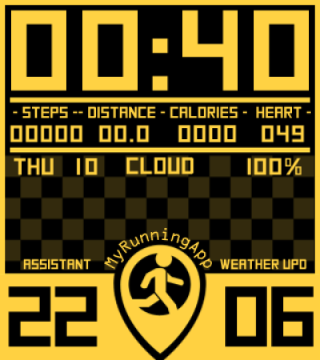 I might be able to cook up square/round version if it's requested.
greets to @MyRunningApp_Staff !