Hello guys! I just got my Ticwris Max smartwatch in the mail on Saturday and I spent all of Sunday looking for faces. Couldn't find any good ones so I ended up having to make my own.
It's inspired by the Fallout PipBoy. Comes in Green, White, Amber, Blue and Red.
This is 640x480. Across the top, Stats is the default screen. Tapping Data opens File Explorer, tapping Maps opens Google Maps (Must be installed). Tapping the weather icon opens the weather.
On the left, the Phone icon opens the Phone. The Speech Bubble is currently set to open Discord (Must be installed) but if you're savvy you can edit the clockface.xml file and substitute your own application. The mail icon opens up Gmail. (Must be installed).
Tapping on the Center opens the clock settings.
On the bottom is the Health which is supposed to show your heartrate, but I don't think it's working right. Date is on the bottom center, and battery is on the bottom right.
The face is fully functional. I may make some revisions in the future.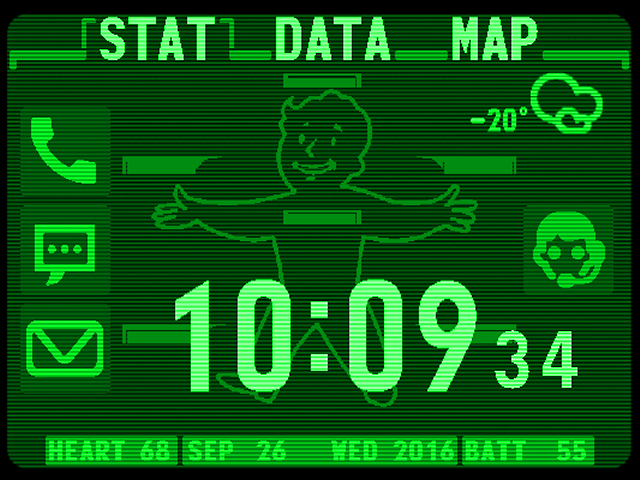 Credit link: -https://bethesda.net/
This post has been obsoleted by Rectangular Watchface - Fallout PipBoy 1.5 - With Animated Update! - Rectangular Watchfaces - Full Android Watch