Hey guys! So here's an update of my PipBoy 1.1 Watchface to 1.5 with a few fixes.
Touch zones have been tweaked to be more accurate.
Touch zones are now all stock. Phone, SMS, Gmail, and Google Assistant (Google services must be installed) - You can change these in clock_face.xml. I recommend installing APK Info to find the activities
Artwork has been cleaned up and updated to proper 640x480. Less fuzzy!
Weather icons are now larger
Step Counter now works!
Bottom of screen: Date in Year/Month/Day format, XP is your step counter, HP is your heartrate (Still slow, sorry! But it works!) and AP is battery.
If you don't want the Vault Boy in the background, you can just replace image1vault.png with image1.png.
Animated Vault Boy is now available if you overwrite your directories with the PipBoy 1.5 update at the bottom of this post.
Credit to Original PipBoy: https://bethesda.net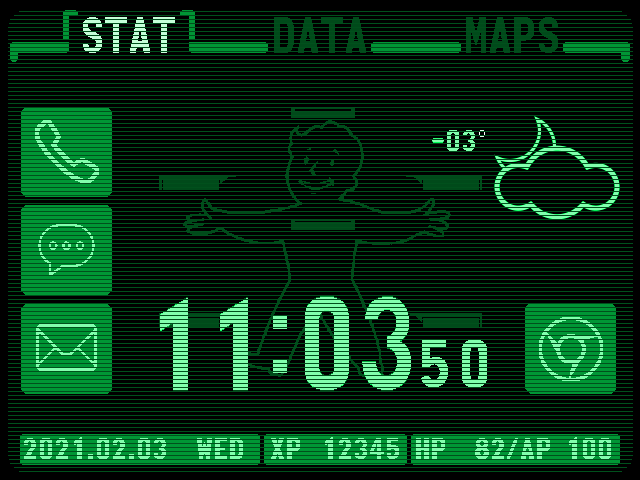 1.5 Update: Now with animated Vault Boy and a slight tweak to the date. Simply unpack the zip into your directories and reload the watch skin. Vault Boy Walks!
Google Drive Link: Pipboy Collection 1_5.zip - Google Drive
1.5 Update Pack: