Power ( red ) Outline Outside ring.
Time,Date,Weekday,Seconds,( 3 ) Power Icons
Get it here …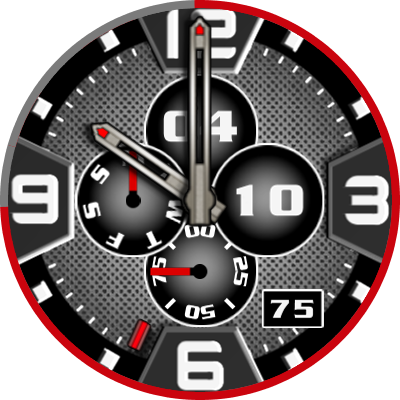 Hi WW, love this face, love all ur work. I'm using Universal Launcher on the Kospet Hope. Just added ur face & the 2 outer rings are running down the centre of the face vertically, any ideas?
here are two different vers … let me know what works ?
Thanks Warlock 4 getting back 2 me, I appreciate U taking the time. So as I told u No'1 has the outside edges running vertically down the centre of the face. Now No'2 is good but doesn't have the outside edges at all & No'3 has the outside edges vertically down the centre of the face, also the battery & day of the week pointers are off centre.
Hey WW. Nice looking face/s.
I have the same problem with the first one.
2nd is OK just no red battery band and;
3rd gives me an all black face with only the digits 02 and 26 (date)
I have a Thor Pro and using Universal Launcher.
Cheers for some great watch-faces though.
Morty
Warlock the time on No'2 doesn't work, It looks like the minute hand isn't working.
I've got the same problem since this morning. I was fine yesturday
Sorry ./. Here is the fix …
WARLOCK!!! How the hell are you? Great to see you and thank you for the beautiful watch face!

Great to see you are back!
Still Kicking

We sent out a search party