My first watchface…

https://drive.google.com/open?id=0B3ig-Yz_NwrgU3laUnlIODcyZzg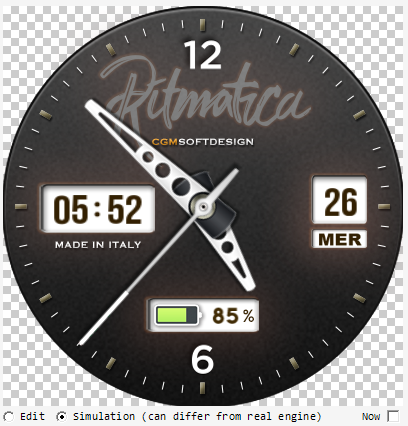 My compliments on this very clean design. I like it very much, especially the beautiful watch-hands.
Two things I don't like:
The battery takes up too much space. How about making it vertical next to the date and day, with a battery icon on the surface? You could use the bottom windows for weather info. But that's a design taste.
The other thing is that the shade on 12 (and the secondhand) is reversed in relation to the rest of the watch. (Easy fix)
Ah i though battery is real lol , good job
Sorry for my bad english… And thanks for suggestions

Bravo! un suggerimento per fare i numeri tutti della stessa dimensione e stesso allineamento (ho visto che quando si aggiunge gli "step" o altro il programma CSM non dimensiona tutti i numeri alla stessa maniera): una volta creati con il "create" devi ridimensionarli ed allinearli uno ad uno(non tutti per fortuna!) col programma di grafica (photoshop,gimp…).
Se per sbaglio rifai il "create" dopo il ridimensionamento(tipo per cambiare colore) il programma clockskinmaker ti cambia di nuovo le dimensioni e devi rifare tutto da capo. Insegnamenti dati dalla pratica e dai suggerimenti datemi da Kenneth Tan che ringrazio in questo post
Grazie Filippo. Faro buon uso del consiglio

Grazie a te per aver contribuito con una bella clockskin! Sulla pagina di Andrew Davis trovi un sacco di dritte e tutorial,se non ci sei già stato te la consiglio.
Gentilmente mi passi il link?
Nice nostalgie watch design. Good job

Puoi clickare sulla sua immagine e ti ci porta,comunque ti metto il link. I post con i suggerimenti sono più in basso penso nei post più vecchi, anche se mi ricordo che ha una raccolta di tutti i consigli e tutorial.
English please people…
Great watch face @Giuseppe_RITMATICA ​



muy bien para ser la primera
THIS IS MY FAVORITE CLOCKSKIN