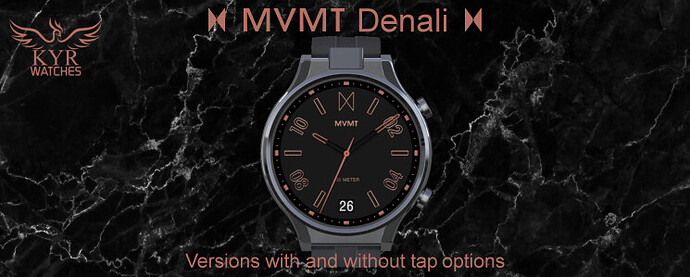 Available in my blog.
Watchface Features: Analog time (hours, minutes and seconds hands). Day.
Tap options for compatible watches: Tap in the date area to open the calendar. Tap in the MVMT logo at 12 o'clock to open the battery options.
Stylish, cool, different, with personality. That's how MVMT watches are. And that's how you can be with this watchface of the MVMT Denali, a fantastic looking watch. Give your smartwatch and your wrist a cool style!
Watch model: Copyright © MVMT
This watchface comes in 3 versions: The first one is without tap options, for smartwatches with Android versions previous to 7.1.1. The second one is for smartwatches with Android 7.1.1 like Kospet Prime SE, Lemfo LEM10, etc. The last one is for watches with Android 10, like the Kospet Prime 2 and future watches with this OS.
IMPORTANT NOTE: The tap options in the version for Android 10 ONLY works with the stock firmware, and NOT in the different beta "International FAW firmwares" that are being developed by Full Android Watch and Wiiteer, because some of the apps used changed from one version to another, and others disappeared. Some of them may work, or not, in those firmwares. Keep this in mind if you're using any of them.
Video Preview: