Mondaine Helvetica No1 Bold
Credits:

Original watch:
https://www.mondaine.com/files/watches/models_detail/MH1.B1221.NB_C.jpg
Download without battery level:

Download with battery level:

Enjoy it!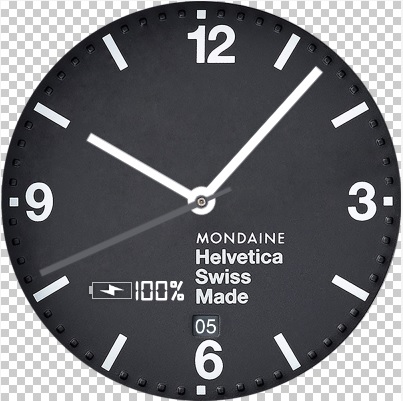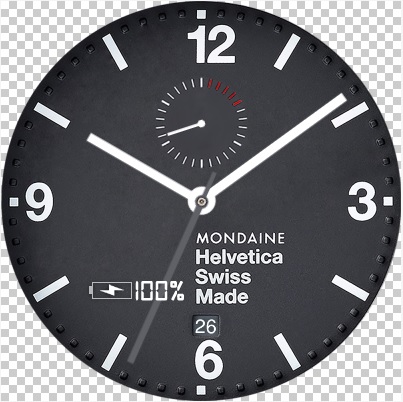 Beautiful! Excellent work, and many thanks for creating yet another lovely face.
@Phil_Day Thanks Phil,glad you like it.

Dont know if you allready downloaded it but i added a new link with a new clockskin wich is better to see becouse i saw that the old one is too dark at the left side.
@Richard_van_Aggelen , thanks again for doing this. I've been using it since yesterday and really like it. However, as I've got an OLED display on my watch, I've done a quick mod to make it completely black on the background, and also removed the minute markers.
Link here in case it is of use -
https://drive.google.com/open?id=0B8ACkPyKC-VpM2ZXS3lvMFBfOFk
All the good work is Richard's - I just changed the colours, zoomed in and made it less good


https://drive.google.com/file/d/0B8ACkPyKC-VpM2ZXS3lvMFBfOFk/view?usp=sharing
thx 4 all your Work… the Dark Black Version is nice

@Phil_Day Nicely done Phil.

But i saw that you have to adjust the date position a little bit. Enjoy it!
Great clockskin! fyi: (at least) the one with the battery has a bigger num_day_8.png - I was able to change it, just wanted to let you know. Thank you for sharing this!
@Sandra_Murg Thanks for letting me know this.

Ive added a new link that should work fine.