My first published watchface, made with WFD. I created a watchface for the Ticwris Max S, I hope some of you will find it usefull. I used generic icons for the apps, so that one can map them to each own preference, e.g. for mail, instead of Google specific icon. It works for the standard launcher.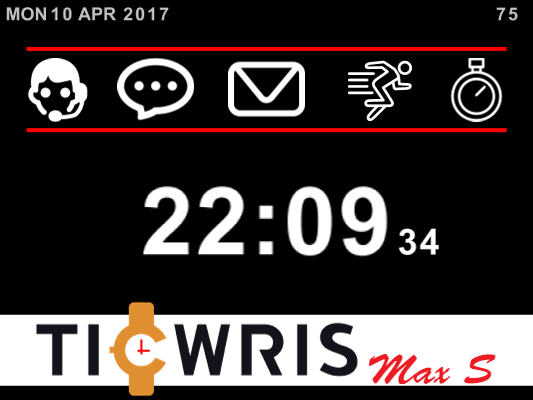 Touch actions from left to right (with which app they start if you don't modify):
Assistant (Google Assistant)
Chat app (Signal)
Mail (Protonmail)
Sports tracker (MyRunningApp)
Timer (Default android clock/timer)
There is date and power in top row (status bar simulation).
Download Link:
Credits for the Ticwris brand and logo (I added the "Max S" part and idea of a white stripe as background

):
https://www.ticwris.com/
Credits for app launcher icons: