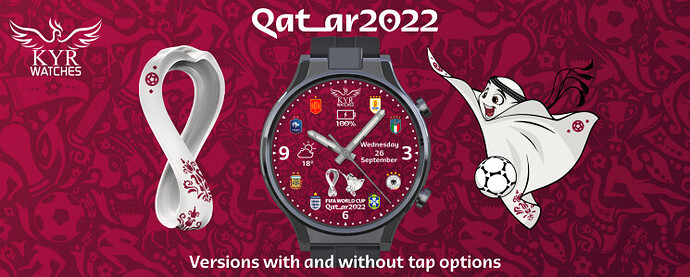 Available in my blog.
Watchface Features: Analog time (hour, minutes and seconds hands). Weekday. Day. Month. Weather. Temperature. Battery percent.
Tap options for compatible watches: Tap in the date area to open the calendar. Tap in the battery icon to open the battery options. Tap in the weather icon to open the weather app.
Once again, the biggest soccer event in the world is here. Today, the FIFA World Cup Qatar 2022 started and we are facing four exciting weeks for soccer fans until the final next 18th December.
And, once again, as in the 2020 EuroCup, KYR Watchfaces brings you the watchface every soccer fan must have! The background shows some artwork created for this World Cup, as well as the Qatar 2022 logo and its mascot, called La'eeb. For the displayed info, the watchface uses the same font as the official logo. And last, 8 of the hour marks are represented with the seals of the 8 national teams that won this tournament.
Will there be still 8 winners in World Cup history, or will we have a new one? Next 18th December we'll know the answer.
No matter if your national team qualified to play the World Cup or not, if it doesn't make it beyond the groups stage, or if it qualifies for the final rounds. If you're a fan of soccer, you definitely need this watchface!
IMPORTANT NOTE: The tap options in the version for Android 10 ONLY works with the stock firmware, and NOT in the different beta "International FAW firmwares" that are being developed by Full Android Watch and Wiiteer, because some of the apps used changed from one version to another, and others disappeared. Some of them may work, or not, in those firmwares. Keep this in mind if you're using any of those firmware versions.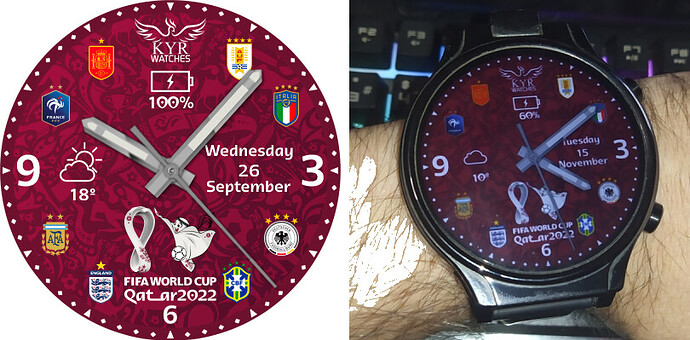 Video Preview: