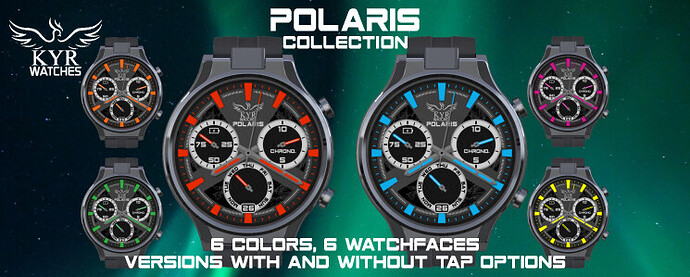 Available in my blog.
Watchfaces Features: Analog time (hours, minutes and seconds hands). Dial date with weekday and day. Battery percent dial. Version with tap options for watches compatible with tap functionality.
Tap options for compatible watches: Tap in the date dial to open the calendar. Tap in the battery percent dial to open the battery options.
New watchfaces pack inspired in a TwSteel model that results in a dial that merges sporty and elegant styles to bring a unique look to your wrist. In the main dial we find a dark steel circunference with cuts in 3 areas to show a rocky pattern background. The three sub-dials shows the date, the battery percent and a 10 seconds chronometer. And, to bring some color to the watchface, the hours and minutes markers, and the hands of the main dial and sub dials are made in 6 different colors, one for each watchface, to add a colorful and luminous touch to the design.
These watchfaces pack is for those who are brave, confident, stylish, and stands out in any situation. Is it you? Then, you must get these watchaces!
IMPORTANT NOTE: The tap options in the version for Android 10 ONLY works with the stock firmware, and NOT in the different beta "International FAW firmwares" that are being developed by Full Android Watch and Wiiteer, because some of the apps used changed from one version to another, and others disappeared. Some of them may work, or not, in those firmwares. Keep this in mind if you're using any of those.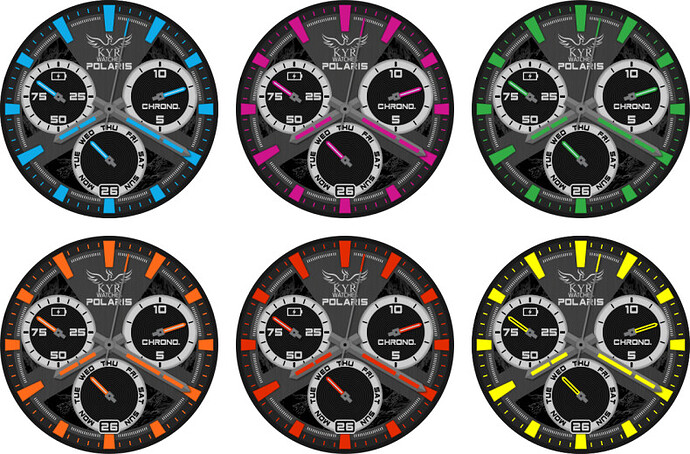 Video Preview: