Available in my blog.
Watchface Features: Analog time (hours, minutes and seconds hands). Day.
Tap options for compatible watches: Tap in the date area to open the calendar. ap in the Lego logo to open the battery options.
The most popular construction blocks ever. The ones used by different generations of kids, teenagers and also adults. Who would think these small bricks woud become so legendary and not only a way to play, but also a precious item for collectors and real masterpieces shown in hundreds of exhibitions? Lego created without a doubt a whole culture, and probably there's nobody in the world who never heard about it.
This watchface is a tribute to these construction blocks, showing them in the main area of the dial, with the numbers and the date created with the popular font used in the Lego logo.
No matter if you're a fan of Lego or not, if you're a kid, a teenager or an adult. This watchface will sure catch everyone's eyes.
IMPORTANT NOTE: The tap options in the version for Android 10 ONLY works with the stock firmware, and NOT in the different beta "International FAW firmwares" that are being developed by Full Android Watch and Wiiteer, because some of the apps used changed from one version to another, and others disappeared. Some of them may work, or not, in those firmwares. Keep this in mind if you're using any of them.
Credit: Lego.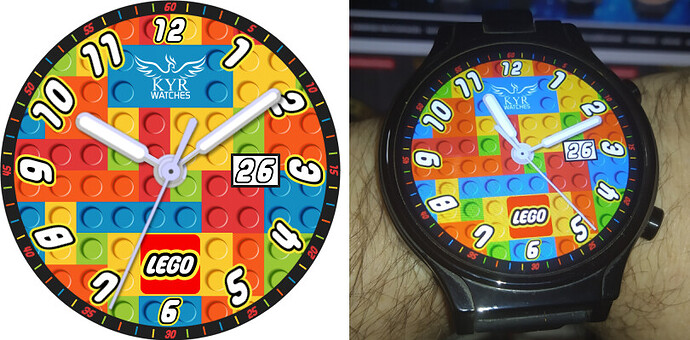 Video Preview: