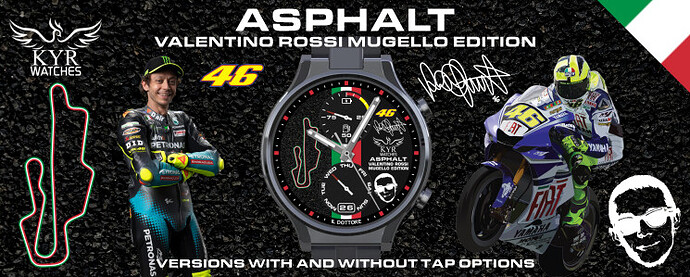 Available in my blog.
Watchface Features: Analog time (hours, minutes and seconds hands). Dial date with weekday and day. Battery percent dial.
Tap options for compatible watches: Tap in the date dial to open the calendar. Tap in the battery percent dial to open the battery options.
Last 14 November Valentino Rossi retired. 9 times World Champion, 89 victories on races and 199 times finishing on the podium, Il Dottore (The Doctor) became the most successful pilot and his retirement means the end of an era in MotoGP.
This watchface is a tribute for the GOAT of MotoGP with details related to this great champion. With the italian flag in the center of the watchface, the background in the left area simulates asphalt ground and shows the italian Mugello circuit, where he won 9 times (7 of them in consecutive years), made with the colors of the italian flag. The right area, with a black background, shows some items related to Rossi: the number 46 of his bikes, his signature, and his silhouette.
To complete the design, in the center of the watchface we have 2 sub-dials for the battery percent and the date, and a bezel for the time showing his nickname "IL DOTTORE" in the bottom.
If you're a fan of Valentino Rossi, bikes, races or sports, you can't miss this watchface!
This watchface comes in 3 versions: The first one is without tap options, for smartwatches with Android versions previous to 7.1.1. The second one is for smartwatches with Android 7.1.1 like Kospet Prime SE, Lemfo LEM10, etc. The last one is for watches with Android 10, like the Kospet Prime 2 and future watches with this OS.
IMPORTANT NOTE: The tap options in the version for Android 10 ONLY works with the stock firmware, and NOT in the different beta "International FAW firmwares" that are being developed by Full Android Watch and Wiiteer, because some of the apps used changed from one version to another, and others disappeared. Some of them may work, or not, in those firmwares. Keep this in mind if you're using any of those.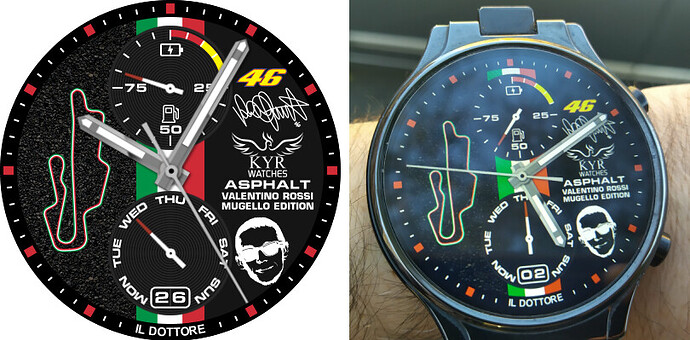 Video Preview: