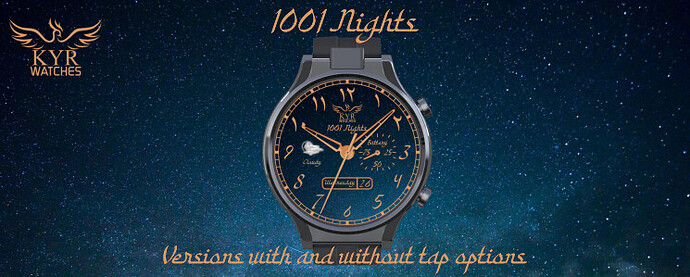 Available in my blog.
Watchface Features: Analog time (hour, minutes and seconds hands). Weekday. Day. Weather displayed with icons and text. Realstic icons for the weather. Battery percent dial. Version with tap options for watches compatible with tap functionality. Version without tap options for watches not compatible with tap functionality.
Tap options for compatible watches: Tap in the date to open the calendar. Tap in the weather icon to open the weather app. Tap in the battery percent dial to open the battery options.
This beautiful watchface brings you the magic, mistery and exoticism of the nights in the Sahara and the Middle East. Nights that has been enjoyed and loved by sultans, pharaos, people from the bedouin caravans, and has been reflected in ancient literature. With a starry night background in the dial, the design features a mix of numbers from the arabic and occidental numeral systems, realistic icons for the weather, and beige colors for the main details and the hands.
An exclusive watchface that will bring an exclusive style to your wist.
This watchface comes in 3 versions: The first one is without tap options, for smartwatches with Android versions previous to 7.1.1. The second one is for smartwatches with Android 7.1.1 like Kospet Prime SE, Lemfo LEM10, etc. The last one is for watches with Android 10, like the Kospet Prime 2 and future watches with this OS.
NOTE: The Android 7.1.1 version has been tested in a Zeblaze Thor Pro 3G with Android 5.1 and it worked. It means it can work in some watches with Android 5. But not all them can use this features, so I can't guarantee it will work.