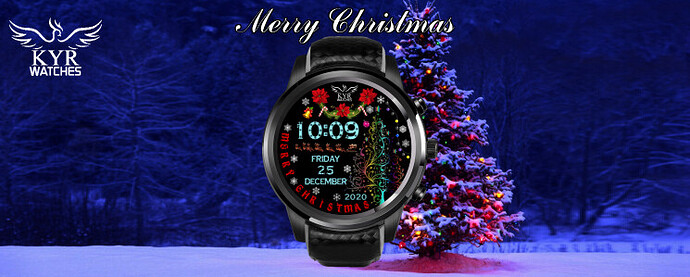 This a watchface I posted in my blog one year ago, but I post it here now because @carlton_86 requested Christmas watchfaces and @Dotsfar reminded me about this one.
https://kyrwatchfaces.blogspot.com/2019/12/kyr-christmas-android.html
Features: Digital time (hour and minutes). Weekday. Day. Month. Year. Animated Santa. Christmas lights with changing colors.
Christmas is here! And with this holiday, KYR Watches brings you the watchface for Christmas. Wear the spirit of this celebration with this beautiful watchface that shows some of the main items everybody can see this days like the blinking lightbulbs, the bell, the Christmas ball and Santa, all them with a small animation. Feel the Christmas emotions in your wrist!