Installed this little battery widget.
Pressing it allows you to program a task to execute.
Gauge battery widget 2016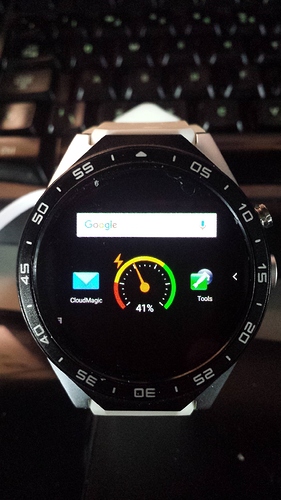 Thanks for all the TSF info. I set it up on my watch as well. For the battery widget, I used a simple circle widget with transparent background and placed it on top of the clock since TSF allows you to overlap widgets.
@Paul_Levy There's much more to come.
I dove into Zooper and it's fantastic.
Already it has a huge community that's building widgets and themes. I've installed a few clockfaces and they look great.
Also you can make your own clockfaces. It's a DIY heaven.
Ok, I've got to figure out how to do this, but it's possible.
There's also this problem with the widget size.
TSF shell won't allow you to use the full screen. It has some margins fixed so clockfaces won't go all the way down.
So I might still switch to another Launcher that does not have this limitation.
But wow, this watch is fast!