Is there any FM Tuner app. for Kospet hope ? Thank you in advance.
There's no FM tuner in this watch. Do you mean network radio app ?
Hi, @Eric_Crochemore greetings, I mean to say normal fm tuner as some mobiles work with out external antenna ( wired earphones ) . It works on internal antenna. I think if there is fm tuner app. then we should load it and check it out. Thanks for your reply.
Best regards.
any updates ? I'm also looking for FM Radio APK for MT6739 on Nougat android 7.1.1 ? I am not looking for live FM radio which uses wifi/network data instead I am looking for stock FM Radio APK which makes use of buit in hardware and I confirmed MT6739 chip supports FM Radio built-in. Appreciate any help.
Looks like it is a bigger problem to solve, I see fmradio.driver.enable=0 in build.prop and I dont see the fm drivers under lib folder. So just apk wont be enough instead we need a recovery patch zip file with drivers, update to build.prop and apk installation ! Anyone want to attempt ?
There is no FM Turner in those watches. So it can't work. But there is a bunch of headphones with inbuild FM radio.
I tried installing the Tune -IN app on my Genesis. Won't accept it. It gives world wide radio stations of every genre. FM radio is bullshit., I have unlimited 4G sim card so I can listen all day
Why would you want FM radio? limited to about a 50 mile radius and the sound is NOT as clear as Streaming like using the Tune-In app. As for data use, radio takes very little data.
And i love FM radio

I live in the Netherlands and like listening to my home town radio station in Michigan
Can you do that with FM radio??
hahaha, no you CANNOT,…
But with Tune in app you can listen to THOUSANDS of radio stations around tthe world in much better quality than an FM radio
NOT only that but do you enjoy having to plug in a headset for the antenna to work??
SMDH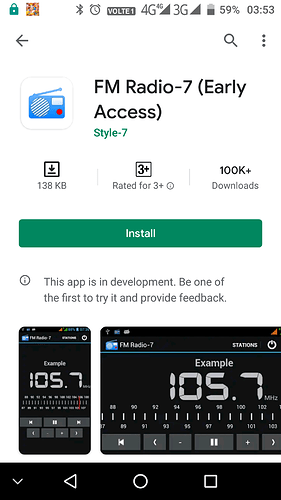 I installed this app. on kospet hope but it didn't work, developer said that it's for below android 5 , if someone can make it work on kospet hope I will be thankful.
The app. required some permission but it was denied ( I was not able to see permissions because it's difficult to see very small notification and it vanished very quickly, I tried it multiple times but it never came back.) No permission was given to this app. So if required permissions are given then it may work, as per my thought.
If some genius will give some time, then this problem can be solved. Android 4 to 5 watches should also try , may be it will work straight away.
Thanks.