Hey guys,
I managed to get my Finow X5 to last for 5+ days, when only using it as a watch with wrist flip enabled.
The battery in this thing is five years old, with default ROM it doesn't even last a day.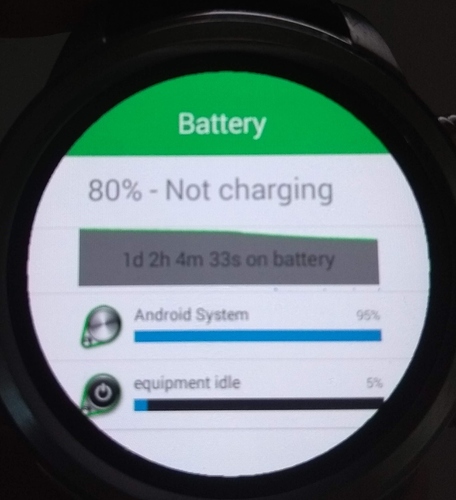 Things I did to increase battery life:
Limit CPU to minimum using Kernel Adiutor (on boot: disable second core, cpu max fequency 598MHz, governor ondemand)
Disabled Google Play service (using Settings Search > Applications)
Removed bloatware companion app BluetoothSocketMonitor (abd shell rm .apk|.odex from /system/priv-apps/)
Battery Saver enabled
Airplane mode enabled (disable GSM/WiFi/Bluetooth)
Display sleep: 15 second
Default clock (almost completly dark with minimal white parts for AMOLED to display
And that's about it really… that increased my battery by 500% it seems!
I'm guessing the CPU limit tweak is the main factor, although I wouldn't want to underestimate the Google and bloatware apps.
Keep in mind, for the benchmark, I'm only using it as a watch with the wrist-flip-display-on enabled.
Enable WiFi or playing music through Bluetooth has a huge effect on battery-life.
Things I tried that failed:
Having an 'Always-On' display, it works but too much of a battery drain, even with dark clock
Things I would like to try:
customize build.prop to save battery
customize build.prop to disable logging
Does anybody have any experience with the build.prop customisations? Will those help?
Does anybody have any other ideas I could try to save battery life?
Thanks, and I hope this is useful for the next person, although I doubt many people are still rocking an X5

As I understand it, my X5 now has a better battery life than the new generation of watches in Android mode