Hello dear friends,
another variant of Casio edifice this time with blue and no bezel.
Preview: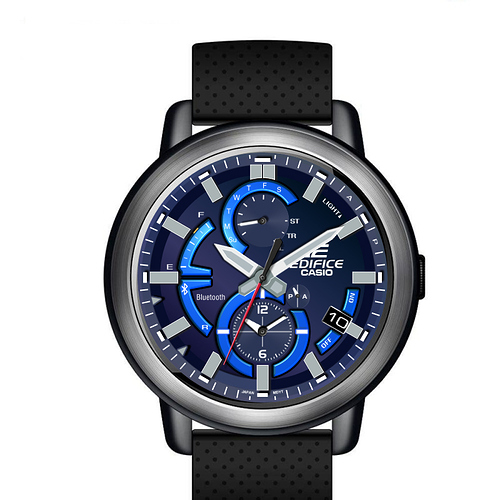 Credit:
https://www.casio.com/products/watches/edifice/eqb900db-2a
Download link:
https://drive.google.com/open?id=1MbrtizbHc7US6pkHejniJ32a74LRLDfC
Nice one Vladimir!

I can't use it yet as I don't have Universal Launcher on my watch. But I downloaded it for when I do put it on. Bit of a coincidence because today (On Ebay) I brought a Casio Ediface for my collection.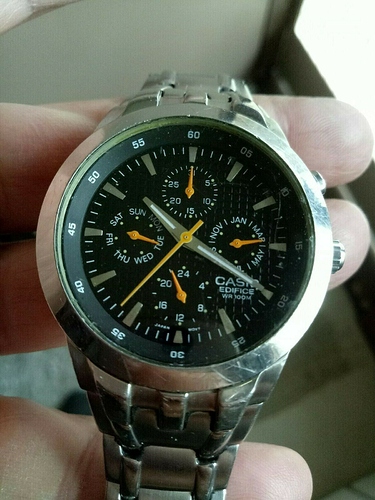 Not quite as modern as your face, but I like the 4 sub dials!
But thanks for sharing your work with us Vladimir…it is very much appreciated mate! Cheers, Doons
Thank you Doons,your real watch is very nice. Wear it with pleasure. Not everything that is modern is necessarily beautiful.
Expensive hobby?

It all depends on your point of view. Before I started collecting watches ( Pocket & Wrist watches) I used to spend just on $300 (Australian) a week on Cigarettes

…I was smoking just over 100 a day (That was 4 years ago, if I were still smoking I would be spending around $500 a week now) When I gave them up I stated collecting watches and I brought an Omega Solid Silver 100 year old pocket watch as an incentive to stay off the Cigs (Cost me just over $700) I now have 12 pocket watches and 75 wrist watches…the latest one being the Casio Ediface…which cost me $40…so yeah, it might be a little expensive, but man, those Cigarettes are in the Millionaires price range!



Cheers, Doons
Let's hope greta thunberg doesn't find out you burnt so much cigars. She would blame you for Australian fires. Lol. And global warming.

Yeah in this case its a expense for a great cause. I actually a hard time understanding what is it in there is smoking and drinking. Anyways when are you revealing your watch vault?
Well back in the day when I was smoking 100 a day, I certainly was adding to the air pollution mate!

I afraid that I can't reveal my watch vault on here Ashik

as it would be against the rules (As they are real watch faces and not Android watch faces) Now that I have given the Coffin nails up, I too cannot understand why I ever enjoyed smoking for over 40 years…luckily I must be the only Aussie who does not drink!


Cheers, Doons