Breitling Callisto Hybrida
Inspired by http://www.breitling.com
      Extra Features:

-Date
-Battery level
-Month
-Day
Download here https://drive.google.com/file/d/0B7XnuX4J6E4ZRHE0NmxFVldQN00/view?usp=docslist_api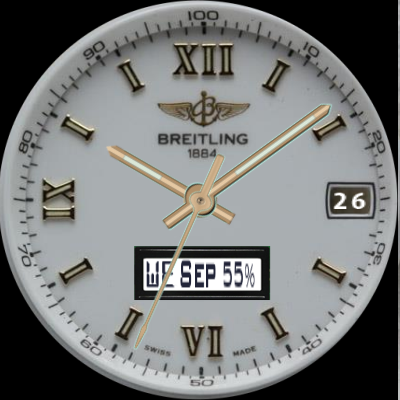 very nice looking skin, is it possible to get the white with the date in it, in the same with as the skin it self
@SilverBack do you want it without the extra display showing day, month and battery level?
Nice job except the bexel around the outside of the watch is uneven from an uneven scan. Also you might take the white outline off the watch hands and replace it with a subtle shadow.
@Jeff_Pierce I'll work on that, i appreciate your positive criticism
Can someone, anyone explain to me WHY when the downloaded file comes in as 7z, it can't be unzipped properly? In other words, this fave shows up EMPTY on the watch…
Thank you in Advance
Could you put the link up again please .