Are you expecting I3 and I3+? My dear friend : )
http://iqi-smartwatch.com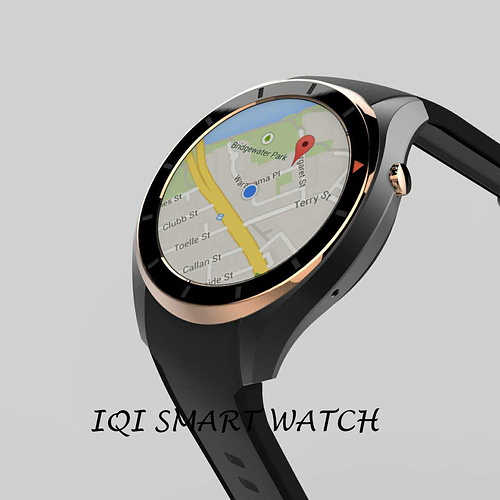 Yes we are expecting it - lol

Looks very luxurious and a lot thinner.
Like the bezel that's almost flush with the display, so you can reach the corners with your fingers.
Gold on mat black. Nice!
Now I'm very interested in the tech specs.
Did some investigation:
MTK6580
512/4GB
400x400 1.39 Amoled (YES!!!)
Single button
Stainless steel case (like the I2)
Yes the antenna's are in the watchbands.
Going Amoled is great. The contrast is SOOO high!
special offer for loyal customers…?
@Andy_Godber there will be similar sales like there were for the I2
We are all quietly hoping that the firmware will not be made by SinkFast, erm, cough cough Sinsoft…
@Kenneth_Tan true - but to many it is an absolute mind bender. You only have to look at the comments in smash's thread and a couple of others to understand that if you wander slightly too far away from the norm - wheels fall off.
You know what I mean. It's fantastic that it's being done but for some it is like weird dark magic - lol

I think some work around education is sorely needed…
Just see here https://plus.google.com/111969764538372389313/posts/DjrUR1xhHmj
And here https://plus.google.com/116474417380733857672/posts/i9WEFqTJSFX
@Pablo_Eleven_Pablo11 you are completely right. But looking at the momentum this community is creating there are bound to be more changes comming. Maybe a programmer wil step forward and build a watchface creator that generates stand alone watchface apk's.
Things are moving fast and I know from first hand that at least 2 companies like what's happening in this community.
@Kenneth_Tan_Fotograf that's nice to know Ken


The more watch makers and app makers we attract the better for our members and the companies/devs. Only good can come from so many like minded people together in one place. The goal being to produce the best round full android watches available at a reasonable cost.
Let me know if you have people approach you or show an interest.
We have a standard invitation letter which we distribute to new or potential sponsors.
Cheers
Pablo11
Why with great watches like the X3 Plus already out are new releases featuring 512/4G being flaunted?
I would never purchase another 512/4G, they are incredibly restrictive.
@Jim_Chisholm because for some - like me - I do not need big storage or ram. It's nice to have but not necessary. I like a good design and good functionality. This is what I look for in a smart watch.