Hi,
I'm an Amazfit user for near than 3 years, my watch is still ok but I'd like to change a bit, with a new and more advanced watch.
But when I look at the other watches I struggle to find an alternative, at least for my need.
In fact I'll use the watch without sim card inside, I'll listen to mp3 files during a running session, and I need to sync the session detail (map, pace, HR…) with Endomondo (I use sync my track apk).
Could you please help me ? Thanks.
What I absolutely need :
an internal memory to load podcasts for running sessions.
a pretty accurate GPS (the Amazfit Pace's one is quite ok)
a good battery life (with the Pace I had about 6 days !)
a good display for workout, here you can see in the bottom right the Pace's display during a running session : 7 informations display !

a workout sync with an app like Strava, Endomondo, Runkeeper… (With the Pace it's easy from the phone to sync the workout with Strava)
a sport app with a working HR rate display.
A price lower that 150$
What I'd like to have :
The ability to transfer mp3 files from my phone to the watch using bluetooth (like I can do with the Amazfit app)
an Always ON Display (like the Pace with the reflective screen)
I watched many videos about Kospet, Zeblaze or LemFo watches, and I'm affraid none can do all these things, for example when I look at the Myrunningapp apk (it seems to be the only one with Heart rate sensor recording during workout), the display is far less readable than the Pace :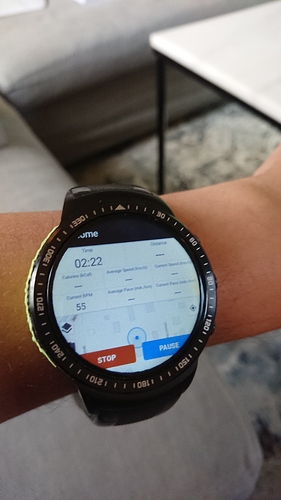 Thanks for reading !