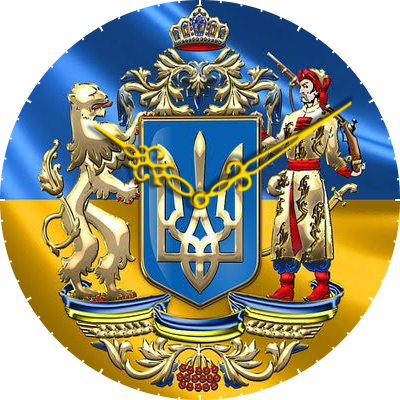 This clockskin displays the Ukraine Proposed Greater Coat of Arms over the Ukrainian Flag.
From Wikipedia:
In this variant, the shield is supported by a lion from the Galician Coat of Arms on the left and a cossack in traditional dress, wielding a musket, the symbol of the Cossack Hetmanate on the right. The Coat of Arms is crowned with the crown of Volodymyr the Great, symbolizing Ukrainian sovereignty and decorated with viburnum and wheat at the bottom.
This version of the coat of arms was proposed in 2007 but has not yet been approved by the Ukrainian Parliament.
Clockskin Zip File Download Link: Ukraine Proposed Greater Coat of Arms over Ukrainian Flag
Credit: Serge Averbukh;
---
This is a .watch version (requires Universal Launcher) that is a modification to the MCT Sequential Two S200. (I do not possess the skillsets to create a clockskin version of this MCT watch.) It incorporates a modified version of the Ukrainian Proposed Greater Coat of Arms that rotates -90 degrees each hour on the hour to display the hour. The Ukrainian flag replaces the 12 o'clock hour. (The coat of arms was modified by removing the crown to better display the hour.) This .watch version also includes an option to display the coat of arms over the flag, just like the clockskin version above.
.watch File Download Link (requires Universal Launcher): MCT Sequential Two S200 Ukraine Version by OnOurWatches