Almost the same as the original, but slightly modified to display the battery indicator
Credit: Ulysse Nardin - Manufacture of Freedom (ulysse-nardin.com)
Preview: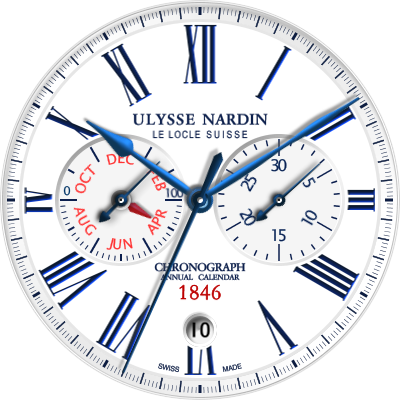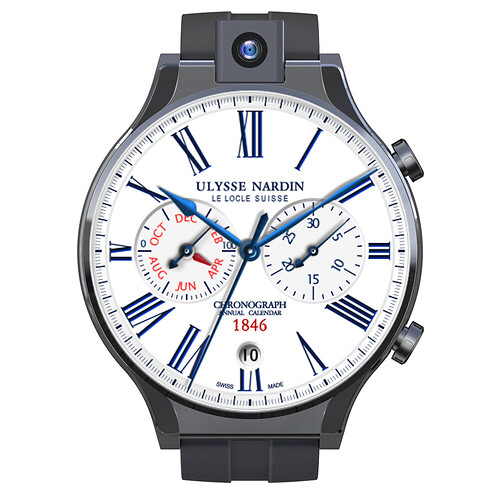 Link:
U.N.Annual Chrono v.1.zip - Google Drive
Great clean detail . Thanks for sharing

I thank you for the comment
Nice one vladimir!

Funny but when I first saw this face I thought "The red months don't go with the rest of the dial" But after studying t for a while, I think it's quite a good idea really . Certainly makes it very easy to see the month…and kiddies, for someone like me (I don't lose track of days, I regularly lose months, once or twice even a whole year!


) that is a big plus! Cheers, Doons
I still don't understand why the hand showing the battery charge is spinning even in the upper half of the dial. shouldn't it be in the bottom half? The charge value is only in half of the dial, but the hand rotates 360 degrees
Thanks for the comment. Not true. The battery indicator only rotates 180 degrees at the top of the dial. It's a matter of design and I'm sure that if you downloaded the watchface you'd realize that

. Thank you again.
So, you downloaded and then imported into WFD 0.14.2. The watch face was created in WFD 0.14.1, precisely to be able to be used in both SL and UL launcher. The latest WFD software is not completely finished and has some limitations. But believe me, it works perfectly with both launchers
It's possible, I'll try it in the watch until the battery runs out. Thank you
Beautiful clean looks. Fabulous
Nice one! thanks for sharing.