Here is the latest for Ticwris MAX-S
Please extract with 7zip - free compression software from here https://www.7-zip.org/
Latest version

Thanks for correcting the thread title Iscle


Does the Max S support OTA? If not, could you please share the link to manual update
Yes it does support OTA.
The firmware is linked to the top post.
If you have never flashed firmware at all you should do a little research and watch a YouTube video on using SP flash tool.
Here are the tools you need to flash the firmware linked above. Install the 7zip package first and then the one click driver package.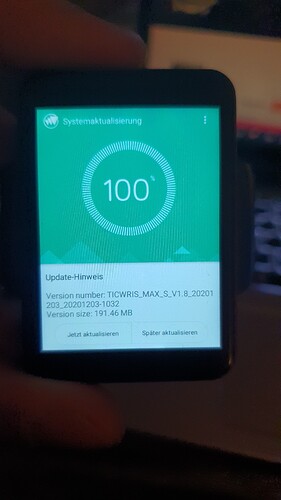 It worked fine, thank you. After installing your Update, OTA finally works and i get a new Firmware-Version
V1.8 is a newer version than the firmware posted at the top of this thread . After installing perform a factory reset ( its advised you do so ) . Let us know what you think of the new update . Thanks
I will upload the new version…
Sorry about the delay

Updated now - v1.8 in top post

If anyone is having trouble with " Some " installed apps rotating by accident . Check this out
Install this and make sure your settings are as follows

Obviously a firmware update will fix this but while you wait this works perfectly
They should have been quicker. I'm afraid I already asked Santa for a Ticwris Max S…
That a probem for me because i wait for it.
That was the same for my kw99 branded kospet official but the firmware wasn't opmized by kospet.
the box and the SmartWatch aren't branded too.
I Know this kind of product are exactly the same but when i pay for a kospet i don't want a standard product and if i want sell my SmartWatch, i can't Say that an original product if it's not branded.
I wouldnt worry . I'm wearing the Max S now and its awesome

. And as you can see already two firmware updates
Yeah, in this case it really does not matter

given that the T-Max S and Kospet Note are the same device, does anyone know who currently has the best available stock levels to purchase either one? (Bagngood, AliExpress, Kospet.com etc)
cheers
Speaking on behalf of the forum - no.
We don't have any relationship with the vendors…
But there may be a member here who can help…


Let's see