Edited by Moderator:
Please do NOT order on this website!
Two Lem T ( or Ticwris, or anything else…No brand !) for 50 USD ??? It sounds quite bizarre…But who knows…
Searching for "delicatey.com" , not so many infos…
It does sound a little too good to be true…but one safeguard is that they take PayPal…and if you pay with PayPal and don't get your item(s) or what you ordered is does not match the description…then you get fully refunded…that's PayPal policy…so perhaps PayPal wouldn't allow them to use their payment method if they thought they were not legitimate?
The only other possibility is that, seeing it is a "Special promotion" when you order it they will say that all the "Free stocks" have been used up? Cheers, Doons
It would be a really good price even if you get only one watch
52 % chance it is a scam

Very new site without established information that could be verified
As someone i know would say: If it sounds to good to be true, it probably is…
After reading the review could be a scam to get your payment information. TGTBT
I got another ad on facebook for this, they are using Mr Ticks video, wonder if he knows?
He does now . Thanks for sharing

I have had my Ticwris Max for a week now, but will order from the site tomorrow just to see what (if anything) comes. Yes I will be using Paypal, Yes, I will be disappointed in Banggood but then again someone will be getting a great present if they show up!!!
You are planing to order on this website? Are you kidding me???
I wouldn't, they are selling the Invicta Joker watch $34.99
$50 - $60 chance not a big deal. If its a loss I let everyone know and trust in Paypal. If they arrive, and at worst I have to patch the software I'm good and will review. I figure someone got ahold of some of the hardware as we have what three different companies selling the same looking device??
I think someone is collecting verified paypal accounts. This page was not published here to encourage you to order. But to save you from it…
Don't order from here, please. Before I ran into Banggood I ordered during a quote, "buy 1 get 1 free" for 49.99 sale. Right after I hit the purchase button, I went back to Facebook to read more comments and saw one were the dude said they sent him some other type of watch. So I immediately contacted them thru email stating I wasn't comfortable seeing that and needed assurance that I was going to get what I paid for. Seller responded with I will receive what is shown on the logistic for the site, and it may be delayed due to virus issues. Fast forward to finally after a month of waiting and it finally arrived. I called post office in anticipation or not being able to wait for mail to run next day and requested to pick "them" up. Got it from the post office and immediately I'm like this box is too small for 2 2.86 screen size watches. Long story short, I was an apple knockoff, and only one to boot. I ended up giving it to wife for mother's day as she isn't big on tech to pair with her Galaxy S20+. I didn't pay thru paypal, and truthfully it was 50 bux. I was pissed but felt from jump like it was going to not be what I ordered. Funny thing is, about 15 days into the wait their delicately website was no longer up, which added to my suspicion. Don't take the cheap route, order thru Banggood. I recently did order the
TICWRIS MAX thru Banggood and can't wait for it to get here.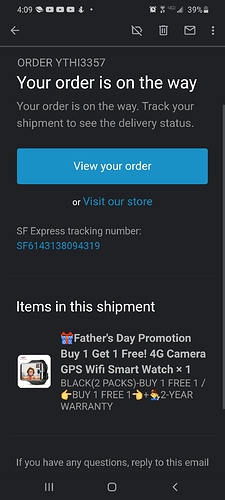 When my children started doing business, I taught them a phrase that my father told me:
If an offer is too good to be true, then it is not true.
True, and i"m old enough to know better. What made me pull the trigger though, was someone(now i believe it was either the seller who did,or someone who ordered from elsewhere and saw it was the same watch advertised there and posted pics of him wearing and holding the watch) posted a picture saying they got theirs and is a great watch.
To add another old school saying.
fool me once , shame on you; fool me twice, shame on me
After being tricked once , one should learn from one's mistakes and avoid being tricked in the same way again.