Hi guys, this is a new watchface, simple an useful-
Array 100 in battery,step man,heart,hours,day,weather and all icons.
bye bye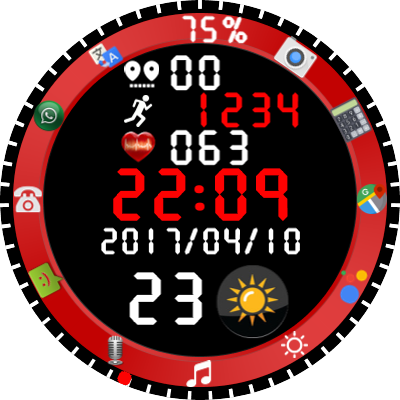 Do you have an "open to everyone" download link?
retry now ,Doubledad,I changed permission in everyone have link.
Sorry,google policy changed.
Really like your watchface. Just curious, what do the icons at 2, 10 & 11 represent. I cannot get them to open up any app. Thinking maybe its an app I don't use like Whats App.?
Jonathan, the icons are : 2) the default calculator; 10) as you say, whatsapp; 11) google translator.
Uhm,the calc works in my watch.
thanks for your comment.
Nice

face as always. Thanks for your time.

Is the link for it the stock calculator? Or a different app.
Thanks Ameer for your comment.

yes Jonathan, it's the stock calculator link.
Tested new watchface today. All works well, only dark red numbers on black are barely seen at daylight. Temperature numbers white on black are well seen.
Right, I added a white version on top.
Thanks for your feedback.