No any copies! Original faces only!
270S_4
Over 50 analog and digital watch faces
https://site-0b1ce67.1c-umi.ru/for_downloading/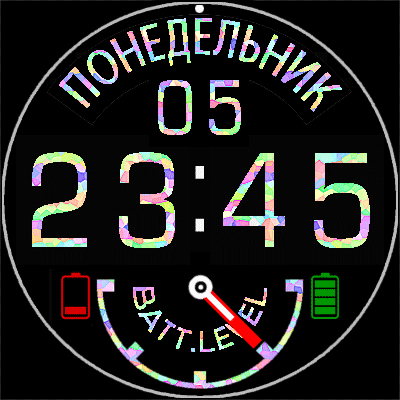 Hi, Alex. If the names of the days appear in Russian, why does not the battery charge?
@Szabo_Tibor Sorry, but I did not understand your question. What is the relation of the weekdays in Russian and the battery level indicator?
Hi, Alex, my question would be that the days of the week are in Russian, the battery is in charge, in English, does it have to be just a coincidence? If you were to re-upgrade it, it would really be a prion! Thanks
@Szabo_Tibor OK! I got you now! You mean that text "BATT. LEVEL" is in English but days of the week in Russian. If it is important for you I can change this text language. When I am creating this watch face I thought that for everybody two simbols of the battery will be more significant then text.
Arrived! It works! Thanks!
Приехали! Это работает! Спасибо!