Hi Splen Dence… is this okay?
I made the diamonds sparkle… because that's what they do…
https://drive.google.com/file/d/0B9c-vl8oxm2EWVowcEIzU25RTzA/view?usp=sharing
http://www.cartier.us/en-us/collections/watches/womens-watches/creative-jeweled-watches/cartier-dart/hpi00929-cartier-dart-ronde-louis-cartier-filigree-panthers-deco.html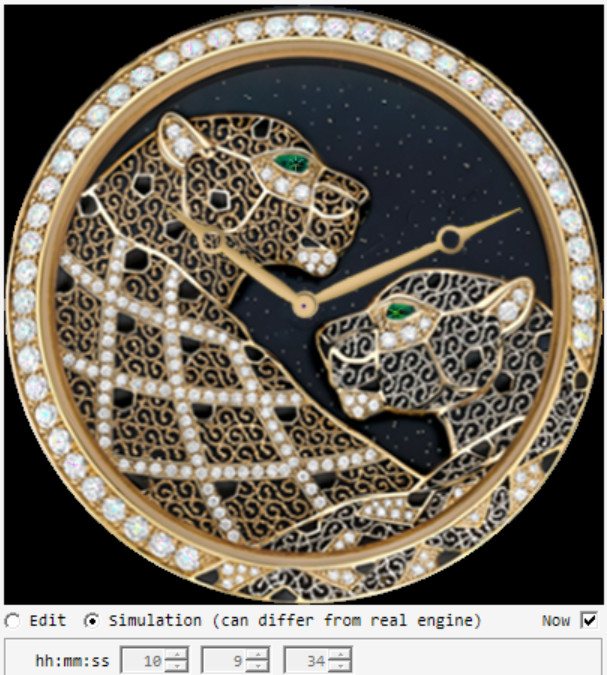 Super fast, but this post should comply with community rules

@Ciro_Danise Oops… I've changed the weblink in the header… and I notice that it's gone up to $188,000… excluding sales tax !
did I do something wrong???
@Splen_Dence You didn't - I did… I didn't link to the Cartier watch page, I'd only linked to the watch picture… rule 3)
3- Respect copyrights and trademarks. You must credit the original maker in your post and provide a link to their work on their website when possible.
oh ok, thanks for the clarification Meredith Drew.
That was extremely fast. It's beautiful and working well. thank you so much.
BTW Is it possible to make the background of the sky sparkle or emeralds sparkle along with the circumference of the watch (not too bright). It's ok if it's not possible I still love what you have done…awesomeeeeeee
If you look closely you should see that the eyes sparkle too… I'll have a go at the sky; I didn't try the fist time because the stars are small and you might not see them - if they're too big they might look odd…
Amazing work and thanks for complying with the forum rules

I think it's the same link, I don't see a change
It's very subtle, you might need a magnifying lens… do you want me to try bigger sparkles?
you are doing an amazing job, i know that it takes time and we appreciate your work:) love it:) thanks.
Thanks Meredith, will have to wait to check it out, at work
I've put it on my watch… my Mrs says it looks nice…

I look forward to seeing your creativity
You have fantastic skills, wonderfully createdddddddd!!!