Here's a new video for you KW88ers: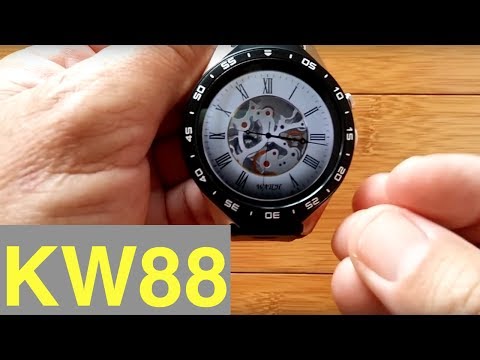 The latest OTA (Over The Air) firmware update for the Kingwear KW88 smartwatch will cause all your currently installed developer created watch faces to crash. You will still see the thumbnails of them when you press and hold the watch face screen and scroll left or right, but if you try and choose one of them, you are greeted with the word "Crash!" and the watch goes to a black screen.
If that happens to you, hold down the power button for a long time to try and get your watch to recover back to the original watch face.
With the 20170112 firmware update Kingwear has changed the method they use for installing custom watch faces, and it is a radical departure from the original. You will need to switch gears entirely.
You will now be able to install the click skins previously reserved for the FINOW and No.1 watches (all the ones you've seen in the watch face reviews on the SmartWatchTicks YouTube channel). To make them work on your KW88, you need to make one small addition to each and every one of them, however, and that is discussed at the end of the video. These are the steps you need to follow for each watch face folder you plan to install:
Find the file labeled clock_skin_model.png

Duplicate it

Rename the duplicate to img_clock_preview.png
Now install the folder with BOTH of these files in it to the "ClockSkin" folder you create on the KW88 or FINOW/No.1 smartwatch. Note that on the KW88 it can be with or without capitol letters, "ClockSkin" or "clockskin".
When you do this you make the clock skin preview able to show up on the selection board on your KW88. Tapping on the thumbnail will bring the watch face up in full view. This was the missing part of the puzzle.
Now, at this early stage it appears that the thumbnail image is repeated three times for each installed watch face. That's not too big a problem unless you have lots of faces installed. Once there is a known fix to this issue, it will be posted here as well. UPDATE: After I had about 30 faces in the watch, the duplicates disappeared and I only had one set showing.
HERE'S WHERE IT ALL STARTED:
Here's the moment of discovery in this comment in this thread on the Proboards (you probably need to be a member to see it): http://roundandroidwatches.proboards.com/post/4313/thread
Big thanks to ricktop and pablo11 for working this out! Loads of fun to see how great minds work together to tackle a problem through to solution.