For those who wish to see the gears in action, albeit sped-up…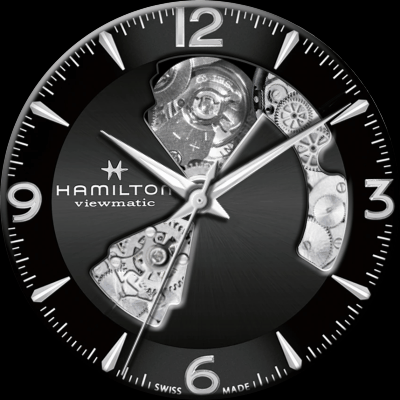 CREDIT: HamiltonWatch.com
That looks slick.




Thank you, Balak, I only wish I had your talent for creating original designs…
Those ideas will run out in a while


I can't download it - deleted ???
I don't know why that happened… Here's the link:
It's downloadable, but I don't have a launcher, so I don't see the top of the machine and the second hand spins the other way around. But I like it
Balak, it requires the Universal Launcher
Yes, I know, but I don't want him. I've tried it several times and it doesn't suit me
That is unfortunate, I've always had great success with the UL
I use applications ten years old, Vocalizer with which the watch tells me to take medication even without a network connection, and it doesn't work with UL. Plus, on LEMFO LEM12, it reduces the font size, and that's bad for me.
Well then, stay healthy!

I agree with you about UL! I also tried it a couple of times and always had some kind of trouble with it. Say Bohuslav, that "Vocalizer" app sounds handy…I've found a couple on Google Play Store…what is the name of your app? Cheers, Doons
Vocalizer TTS, but it's probably only for the Czech language
No problems mate! I'll just learn to speak Czechoslovakian first…then I'll get one!


Actually it looks like they have one named Vocalizer TTS for English (And many other languages) Thanks for the information

, Cheers, Doons
A similar service is provided by the 'Shouter' application. 5The tells you that your wife is calling, that Johny is writing to you, or that you have to take a pill. You have to play around with the settings in the watch, but it works perfectly on the phone. He needs the internet or just the Vocalizer
Learn Czech. The Czech Republic and Slovakia have long been two independent states. Thank you …



See? I've learnt something Czech already! Ah well, mathematics never was my best subject!

, Cheers, Doons
:-)) And the end. Such a discussion does not belong here. Here we solve dials